Mortgage Information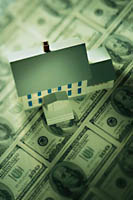 If you're like most buyers, a home is the most expensive purchase you'll ever make, and you'll probably need some form of financing.
There are many lending institutions that offer a variety of mortgage products. Financing options and rates can vary widely, so it is important to do your research and shop around to ensure you get the mortgage that best meets your needs at the best price.
I would be happy to refer you to some very good mortgage contacts I have in Artesia, or to help you in any other way I can to secure the best possible rate for your home purchase.
Use the mortgage calculators below to assist you in making some decisions around financing your new home.
---
Mortgage Payment Calculator & Amortization Table
This calculator will help you determine what your mortgage payments will be based on purchase price, interest rate and mortgage term, as well as other factors. The amortization table shows what the interest and principal payments will be over the term of the mortgage.
Contact Us For All of Your Real Estate Needs!
Come by or call us at
Carson Real Estate,Inc.
1114 W. Main Street Artesia, NM
​Office: 575-748-1311
​Fax: 575-746-9080
Our office hours are Monday-Friday
​9-12 & 1-5.
Come by for a list of properties and
​to visit with one of our professional Realtors.
After hours, feel free to pick up a complete list,
​just outside of our front door, of all the homes available for sale in Artesia's MLS.
We can show you any homes listed in the Artesia Multiple Listing Service.
Please give us a call to see any of these homes. We are available after hours by appointment.
Call our Realtors:
Office 575-748-1311
Selena Carson
​575-308-9585

Antony Hall
​​575-308-8150

​ Raquel Carson
​575-308-9345
​
Email us:
​carsonrealestateinc@gmail.com
Featured Listing
Free Annual Credit Report